About Green Health Clinic
Green Health Clinic is wholly committed to your health and well-being. From the very first moment you get in touch with us, we have nothing but your healing, peace, and satisfaction in mind. To guide you in your road to wellness, we follow these protocols:
Identification of the root cause
Before we can create the blueprint of your healing, we must first identify the root of the problem. Here at Green Health Clinic, we don't just take your health history and ask about your signs and symptoms, we also guide you through several tests that check your health down to the cellular levels. 
Some of the tests you can expect to have are:
Micronutrient Tests: A deficiency in micronutrients can lead to various diseases. Green Health's Micronutrient Test looks closely into your cells to assess if you lack any vitamins, minerals, fatty acids, or amino acids.
GI Profile: A healthy gut gives you a healthy immunity! GI profile checks for organisms in your stool and gastrointestinal tract that might cause diseases.
Genomic Testing: You have a unique set of genes that significantly influences your overall health. By undergoing genetic testing, we will be able to determine how your genes contribute to your current health problem. That also means we can give you highly customized treatments.
Hormone Panel: Imbalances in your hormones can result in various diseases that might reduce your quality of life. Through Green Health Clinic's Hormone Panel Test, we will know if you lack or have excessive levels of certain hormones.
Interventions tailored just for you
Once we have the results of your tests, we can proceed with the interventions that best treat your condition. Even better, our strategies involve holistic strategies that will change your life for the better. 
These strategies include:
Besides  improving from your medical condition, these treatment strategies can also help you achieve your health goals. For instance, many of these procedures can promote energy level, motivation, focusing,  weight loss and reverse aging. 
Monitoring and empowerment
Our service doesn't stop with treatment. Here at Green Health Clinic, we provide step-by-step guidance to ensure that you'll follow through with the entire treatment course, all the while ensuring that YOU are in charge. 
We have coaching and counseling sessions that address roadblocks as early as possible so that they wouldn't interfere with your healing and goals. Simply put, we cater not just to your physical needs, but also empower your mind and spirit.
Healing beyond your symptoms
Never settle for a fleeting relief when you can reach your optimum health. Trust Green Health Clinic with your health problems and goals – more than taking care of your symptoms, we will go beyond the extra mile to bring well-being to you.
Give us a call today or visit our clinic to kickstart your journey to a healthier and stronger you.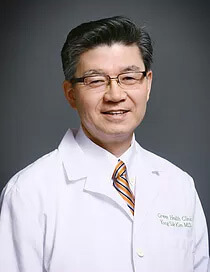 With a background in general surgery, family medicine, and integrated medicine, Dr. Yong Sik Kim brings an effective and curative treatment approach to his patients. Rather than providing symptomatic management with prescriptive medications, he focuses on identifying the root cause of illness and brings cure to his patients. Dr. Kim is a board-certified physician who had worked as a Clinical Assistant Professor at the University of Texas Medical School and the Baylor College of Medicine in Houston, Texas. 
He is also a member of the World Anti-Aging Academy of Medicine, Integrative Practitioner, International Society of Orthomolecular Medicine, and American Academy of Family Medicine. Dr. Kim received his medical degree in 1985 from South Korea. He is board-certified in Family Medicine after completing his residency at Baylor College of Medicine in Houston. He strongly believes in preventive health through proper lifestyle and nutritional support. Dr. Kim provides the necessary treatment with the courtesy and proficiency matching his many years of experience.
Schedule a time to speak with us and we'll work on a customized health plan to meet your specific needs.